Apprentices benefit from donation of PPE from ExxonMobil Fawley
Apprentices whose practical learning was interrupted by the COVID-19 pandemic will be able to return to their studies at Southampton Engineering Training Association (SETA) helped by a donation of vital PPE from ExxonMobil Fawley.
SETA was forced to close its doors in March this year to preserve the health, safety and welfare of apprentices, customers, and staff and to mitigate the potential spread of the virus. Since then, candidates have been able to complete distance learning with ongoing support from their SETA assessors.
However, the Millbrook-based centre, which offers accredited, industry-recognised training to an advanced level, has now reopened to its intake of 20 ExxonMobil Fawley first year apprentices who returned to the workshops this month (July) to complete their initial training. In addition, SETA is gearing up to welcome back about 40 current and new apprentices from other local employers in September, along with a new intake of candidates from Fawley.
SETA Managing Director Julie Gough said: "A vast amount of work and effort has been put into implementing the necessary measures to get SETA open again safely. Risk assessments have been carried out across all areas of the business, and strict new operational procedures have been put in place. These include a comprehensive new arrival process, including temperature checking, face coverings being worn, reduced class sizes to ensure social distancing measures, and increased overall hygiene measures."
The initial beneficiaries of the PPE donation, which includes hand sanitiser, masks, and a variety of different types of gloves, will be SETA's staff and the 20 ExxonMobil Fawley first year apprentices returning this month. This will enable them to continue with their practical studies before they join the Fawley site in the autumn for on-the-job training in their second year. The apprentices are all working towards a Science Industry Maintenance Technician Apprenticeship, covering electrical, instrumentation, mechanical and metal trades.
SETA Operations Director Mike Driscoll said: "The donation of PPE will ensure the everyday running of the centre by helping us to follow the increased hygiene measures put in place. This includes adhering to the non-sharing of standard workshop PPE such as rigger gloves and welding gauntlets as all apprentices will now be required to have a pair of gloves each. Other recipients, including apprentices from other companies, workshop instructors, and classroom teachers will also be able to take advantage of the donation of PPE in September. In addition, the ExxonMobil apprentices in their final year of apprenticeship will also benefit as they will be attending SETA for part of their End Point Assessment, which marks the culmination of three years of hard work."
Fawley Training Manager Beth Varndell said: "We have been sending apprentices to SETA for the first year of their 'off the job' workshop training for decades. The COVID-19 restrictions have had a huge impact on the whole of society, and it is important that we offer our support where we can in order to help facilitate a 'new normal'. This donation of PPE means our apprentices, SETA's staff, and other learners can continue their training in a safe environment."
Pictured: two first year apprentices from ExxonMobil using hand sanitiser and masks from the donation of PPE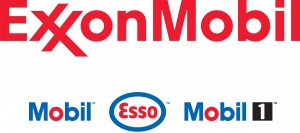 Fawley Refinery