Workshop Taster Day
Saturday 13th November 2021
10am to 2.30pm
If you're thinking of a career in Engineering, and want to have a go and actually get hands on, hear about current apprenticeship vacancies, then don't miss our next Workshop Taster Day by registering using the form below.
You will be able to chat to staff and current apprentices, find out what its really like to be studying at SETA, what an apprenticeship actually involves and see whether you think it could be for you.
But the best bit is you'll actually be able to get hands on with various engineering activities and see if it is something for you!
Stay for the whole duration, or for as long as you want!
Have a go at different engineering activities, overseen by experienced instructors.
Anticipated activities include:
~ Metrology
~ Fluid Power
~ Mechanical Fitting
~ Sheet Metal
~ Electrical Wiring
~ Electronics
~ Computer Aided Design
~Find out about "Life as an Apprentice"
~ Information on applying for an apprenticeship
Download the flyer: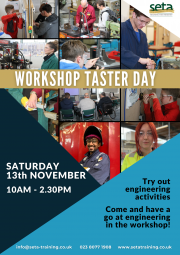 Please note that if you are under 18 then you must be accompanied by a parent or guardian.
Everyone (including parents or guardians) entering the workshop must wear strong or sturdy shoes (no flip flops), and must not have bare legs.
Register for the event using the form below.
You will be contacted, via e-mail, nearer the event as a reminder.