Coronavirus – COVID-19 - General Advice
We understand and appreciate that the news coverage of the Coronavirus outbreak remains concerning and upsetting. Apprentices, candidates attending commercial courses and staff will be worried about friends and family, and our thoughts go out to those affected by the current situation.
As part of our plan, SETA is communicating with employers/candidates/apprentices/visitors and sub-contractors to help ensure mitigation of any potential risks.
SETA is following national guidance that has been issued for educational settings. The latest accurate information on Coronavirus (COVID-19), including the current situation in the UK and details about the virus and its symptoms, can be found on the NHS website or the Public Health England website. Both websites are regularly updated and include the most recent advice - so we encourage you to visit them for the latest information.
Also look at the Coronavirus pages on the Government website for the latest up-to-date information on what you MUST do.
Controlling the virus
The three most effective ways we can all control the spread of the virus.
HANDS
Washing your hands with soap and water, or using hand sanitiser, regularly throughout the day will reduce the risk of catching or passing it on.
FACE
Wearing a face covering over your nose and mouth reduces the spread of droplets carrying the virus. This means if you have it, you're less likely to pass it on to others.
SPACE
So when you are with people not from your household, you must keep at least 2m apart where possible
The short Government Video shows reconstructions of everyday environments and how your actions can help stop the spread of the virus.
If you have any coronavirus symptoms; high temperature, a new continuous cough, or a loss or change in your sense of taste or smell, you should obtain a free test by calling 119 or visiting NHS.uk. You should self isolate at home in line with current government guidance. You must also self isolate if you come into contact with someone who has tested positive for Covid-19 in line with current government guidance. If you go on to develop symptoms you must obtain a test yourself.
How to wash your hands with soap and water for at least 20 seconds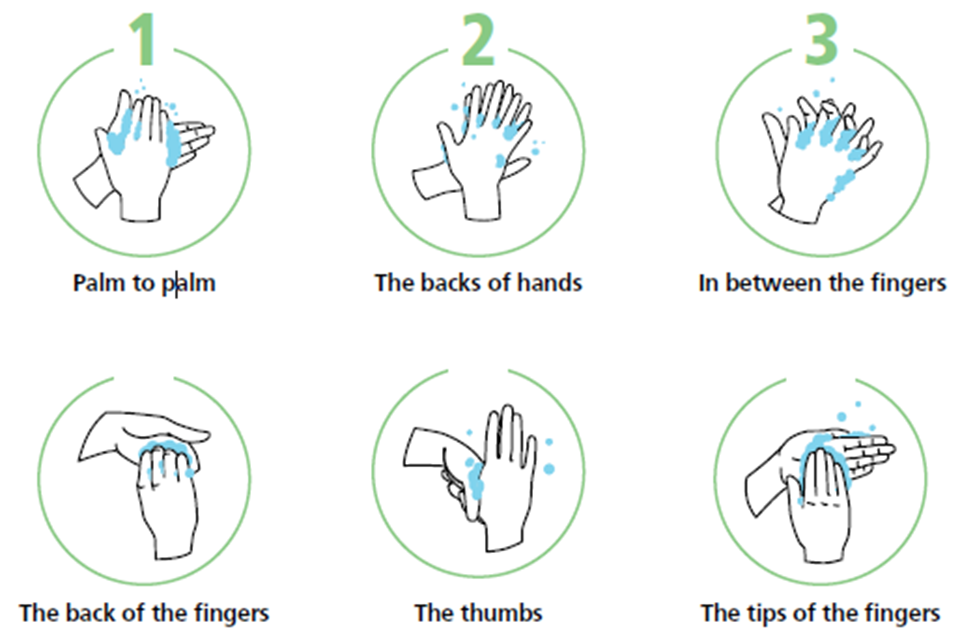 Stay alert. Control the virus. Save lives.