Coronavirus – COVID-19 - Update
Over the past few weeks, SETA has taken numerous actions to preserve the health, safety and
welfare of both our apprentices and customers whilst they complete distance learning with SETA during these
challenging times. Thank you for your continued support and understanding during the site closures.
As part of our plan, throughout the Covid-19 pandemic, SETA has been communicating with employers/candidates/apprentices/visitors and sub-contractors to help ensure mitigation of any potential risks. There has been a resounding request to open SETA for training again. Not only will this allow for continued staff training and development, but will do so when it is needed most to help strengthen the economy and get the nation back on its feet.
Re-Opening
We are proud to say that with a lot of hard work from a dedicated team we were able to stick to our pledge of being able to re-open our training centre on Tuesday 26th May. Commercial testing and assessment successfully took place whilst adhering to social distancing measures and national guidance issued for educational establishments set out by Government, The Health & Safety Executive and various industry Awarding Bodies. Covid-19 risk assessments are in place for each activity taking place at both SETA centres, which were deep cleaned and redecorated ahead of opening. A copy of the risk assessment can be obtained by e-mailing our Health & Safety Manager, Pete Millington.
Please note that we will be extending the closure for Apprenticeship workshop training until after 1st July, subject to further review.
Commercial Courses
We are now open for several classroom based courses. This is within strict adherence to the necessary guidelines and following the new change to operational procedures.
There is now a comprehensive new arrival procedure (including temperature checking), reduced class sizes to ensure social distancing measures, and increased overall hygiene measures. Candidates must self-declare symptoms and under no circumstances attend training to reduce the risk of spreading the virus.
What to expect on arriving at SETA and the new operational procedures can be found in the FAQs section.
Customers that were due to attend training or assessment that was cancelled, as well as those booked for the near future, have been contacted to run through the options available. In most cases these will be rescheduled to upcoming dates. SETA must ensure safe delivery of all aspects of training, testing and assessment before we fully open again.
If you have a course booked and have not been contacted, or would like to contact SETA then please use the details below:
Telephone – 023 8077 1908
Email – info@seta-training.co.uk
Apprenticeships
We are in regular contact with all employers of apprentices keeping them up to date with the ongoing situation. We are ensuring the continuity of training with education and support services being successfully operated remotely.
To help ensure that apprentices are working towards their learning targets:
~Apprentices continue to use Google Classroom for online learning
~Assessors continue to remain in contact with apprentices via telephone and e-mail in the usual manner
From 16 June some apprentices will be returning to SETA to continue with BTEC and HNC classroom work, adhering to the new changes to operational procedures including social distancing measures.
Apprenticeship workshop training will not re-start until at least the 1st of July. This will be subject to review and will only be when further guidance is received and the risk mitigation strategies are in place to ensure safe delivery for all involved. Apprentices and their employers will be notified of any decisions made as soon as possible.
Apprentices with confirmed test dates
SETA will now defer these and re-arrange. Apprentices requiring these qualifications will receive practice papers via e-mail to complete.
Apprentices approaching gateway for end point assessment
SETA is reviewing this with partner organisations and will contact apprentices directly once we receive further instructions.
Safeguarding
All safeguarding matters and concerns will continue to be facilitated via SETA Safeguarding Team
safeguarding@seta-training.co.uk and 07594 299517.
Until we open fully we would like you to stay safe, and thank you for your continued support and co-operation during these unprecedented and challenging times.
Covid-19 Compliance Document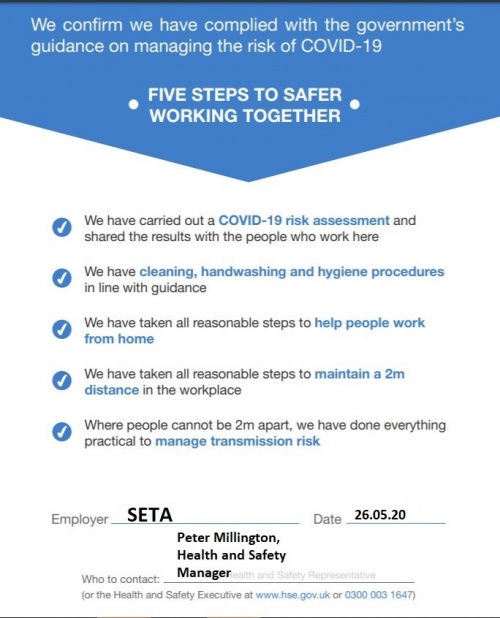 Our Covid-19 general risk assessment is available upon request.
Please contact Pete Millington, Health & Safety Manager.
Further advice from The Government can be found on the Corona Virus general advice page