Coronavirus – COVID-19 - TESTING
Everyone entering our buildings is encouraged to carry out an Asymptomatic Test / Rapid Lateral Flow Test. Ideally these will have been carried out at home or at your place of work ahead of travelling to SETA.
However, they are also available from reception in our First Avenue Centre if you have not got one at home or work. This is for the Health, Safety and Welfare of all who use the centres.
As from the 4th January 2022 face coverings MUST be worn in all areas at all times by all individuals at SETA (unless exemption allows) whilst at SETA. This includes commercial customers, visitors, apprentices and staff.
If any individual has any symptoms, however small they must stay at home and book a PCR test as quickly as possible. Those who test positive with the new 'Omnicron' variant will be notified of this, as will those having been in close contact via Test and Trace. These individuals will need to isolate/PCR test, even if vaccinated.
Commercial Learners
There is no requirement for candidates attending any of the commercial training courses to complete a Lateral Flow Test on arrival at SETA. However, we strongly encourage their use generally.
Please be reassured that SETA continues to maintain increased hygiene and cleaning measures.
Candidates must self-declare symptoms on our iPad when they sign in and under no circumstances attend training if they are showing any Covid-19 symptoms. This is to reduce the risk of spreading the virus. SETA also displays the NHS Covid-19 Test & Trace App in reception as you sign in, and strongly encourages its use. For more information on what the App does please visit the dedicated Covid-19 NHS website.
What to expect on arriving at SETA and the new operational procedures can be found in the FAQs section.
Apprentices - both full and part time
Apprentices are issued with Asymptomatic testing kits for use at home, with further kits being issued when required. You are encouraged to test three times a week on Monday, Wednesday and Friday morning before coming to SETA for training. Please note no self-testing will be carried out in the building for these individuals.
The Rapid Lateral Flow Testing document can be downloaded below.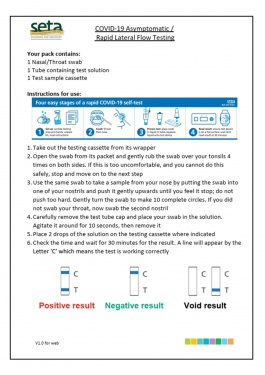 SETA would like to thank you for your continued support and co-operation at this time.