Going Full Circle
Apprenticeships are an essential and valuable option for young people who want to enter STEM industries. Specialist support from education providers like the Southampton Engineering Training Association (SETA) ensures that they can achieve excellence in their studies whilst working in industry. Mike Driscoll is the Operations Director at SETA; read about how he went full circle from an actual apprentice at SETA, out into industry and then back to SETA, ending up ultimately as a Senior Manager.
From apprentice to Director at SETA

STEM has been important all the way through the working life of Mike Driscoll, Operations Director at The Southampton Engineering Training Association (SETA), based at Millbrook, Southampton. Let's hear how he went 'full circle'.

Have you always been interested in STEM?
Yes, often without even realising. As a youngster I grew up around aspects of engineering and I enjoyed studying all STEM subjects at school. My career in aerospace used STEM as a platform on which to perform under pressure, applying scientific principles to engineer solutions for customers and I now help to promote STEM within my current role at SETA.
How did you discover engineering?
My father inspired me. An aerospace engineer himself, he chose to follow the apprenticeship route 'back in the day' and remained in the industry for over forty years. He spent a lot of time making, mending and repairing things in his garage and general DIY jobs around the house. He also had older vehicles in differing states of repair and spend time putting them back 'on the road'. I remember looking in admiration at all the tools and thinking how creative he was. He then started showing me different skills he was taught as an apprentice. I think this is what inspired me to become interested in STEM subjects at school and ultimately go 'full circle'.
What made you do an apprenticeship?
I always knew I wanted to be an engineer, so during Year 10 I undertook a two-week work placement with a large aerospace employer based in Fareham. On completion, I was summoned to the Training Manager's office and was offered the opportunity to complete a technical apprenticeship starting immediately on completion of my GCSEs. I did consider attending a Further Education College to study a BTEC Diploma in Engineering on a full time basis; ironically the very qualification I applied to study was also part of the apprenticeship. Apprenticeships offer a blend of vocational training (practical) and theoretical learning and this suited me.
There must have been a lot of practical engineering training within your aerospace apprenticeship?
Yes. I spent the first year 'off the job' at, would you believe it, SETA! This is where it all began as I spent the year completing mechanical, electrical, electronics, logic control, machining, bench fitting, mechanical and electrical maintenance, technical drawing, project management, welding, CNC machining, instrumentation, measurement, pipe fitting, DC Motors, marking out… the list is endless!!! I also studied a BTEC Diploma in Engineering and a Higher National Diploma in my final two years alongside an NVQ in Providing Technical Services. I was able to improve my English and Mathematics grades through something called Key Skills, Level 3, more commonly known as Functional Skills today.
Have you used any of the skills from your apprenticeship since?
Absolutely! I'd say every day I apply skills gained as part of my apprenticeship both at home and in my job role. Apprenticeships offer so many transferable skills that enable you to communicate, plan, manage, resolve problems and create new ideas. I'm also able to apply my knowledge of engineering back into education by teaching skills to apprentices and helping them to succeed.
What hobbies do you have?

I spend a lot of time (probably too much time!) in my garage/workshop, working on my vintage/classic cars and attending shows. I enjoy motorsport and have raced my own vehicles around various race circuits and I also like watching Formula 1. I also enjoy DIY and house renovation. I'm also into antiques and collectables and have amassed all kinds of things over the years from vintage telephones, comics and magazines to vintage aircraft parts. I'm also a licensed Amateur Radio user and make regular contact with other radio users across the world.
So you use STEM outside of work then?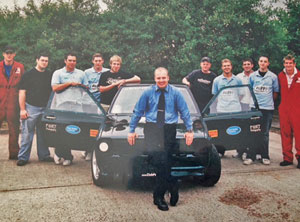 Yes, every day.
Would you say that STEM has been a 'backdrop' to your career? Has your career always involved STEM?
Absolutely. STEM underpins everything I have achieved in my career – and going 'full circle' means I get the pleasure to not only demonstrate the importance of STEM but help promote these core subjects with my own staff and our apprentices.
What other CPD have you done along the way?
Gosh, where do I begin…?! All sorts of training both professionally and personally within engineering to remain sharp, from courses in Lean Manufacturing, Business Improvement, Technical Authorship, AutoCAD/Design to academic studies Higher National Diploma, Teacher Training (CertEd) and Amateur Radio. I'm currently planning to undertake training to become an Inspector within further education.
Do you feel that CPD is important?
CPD is critical to ensuring you remain sharp and focused. STEM is continually changing and so it is important to keep pace and training is what makes this happen. So many new manufacturing methods and materials have appeared in the last ten years.
In the current climate is it important for employers to invest in training?
Definitely! There are so many Government incentives for employers at the moment to really help get the country back on its feet and to try to rebuild the economy.
This article also appears on the STEM Now website. Hop on over to their blog to read about other individuals succeeding in STEM careers, and find out how STEM Now aim to achieve their goal of making the world a better place for all with their four key stakeholders; STEM industry, STEM academia, educators (from both formal and informal education) and young people.